We have now come to review FxPro in our series of reviews of the most popular brokers and trading platforms. 
As the name suggests, they specialize in forex trading, but also provide the opportunity to trade other markets, such as stock indices, stocks, and commodities.
In the review, we rate them according to the usual criteria:
Security
Product selection
Trading platforms
Trading costs
Charting package
Customer service
Demo account
Bonuses
About FxPro
FxPro have their headquarters in London and are licensed by the FCA. They were founded in 2006 in Cyprus, but have later expanded to most places in Europe. They offer trading with CFDs and have two trading platforms – MT4 and cTrader.
At FxPro, it is not possible to lose more than one's deposit. That is, if you were going to be in the very unfortunate situation that you for some reason did not assign a stop-loss to your trade and a terrorist attack or similar unforeseen event happens while you are long the Dax, and the account should go in minus, they will then correct the loss to end in 0. It's definitely a plus.
Security at FxPro
The customer's money is separated from FxPro's funds. That is, if FxPro should go bankrupt, it does not affect the customers' money, as they are reportedly located elsewhere at different banks. In addition, up to 500,000 kroner of your money is secured as a result of the English depositor's guarantee.
Therefore, the security is good with FxPro. It is definitely a good thing that they are regulated in the UK.
Products at FxPro
Their product range is satisfactory and they offer most popular markets:
Shares (few large shares)
Commodities
Forex
Stock indices
Unfortunately, they do not offer bonds and ETFs. However, most daytraders should be satisfied with their product range.
Trading platforms at FxPro
FxPro does not have their own platform but have purchased access to the award-winning cTrader platform, which can be downloaded and accessed through the browser. The other platform they offer is the classic MT4 platform.
In this review, we look at the cTrader platform.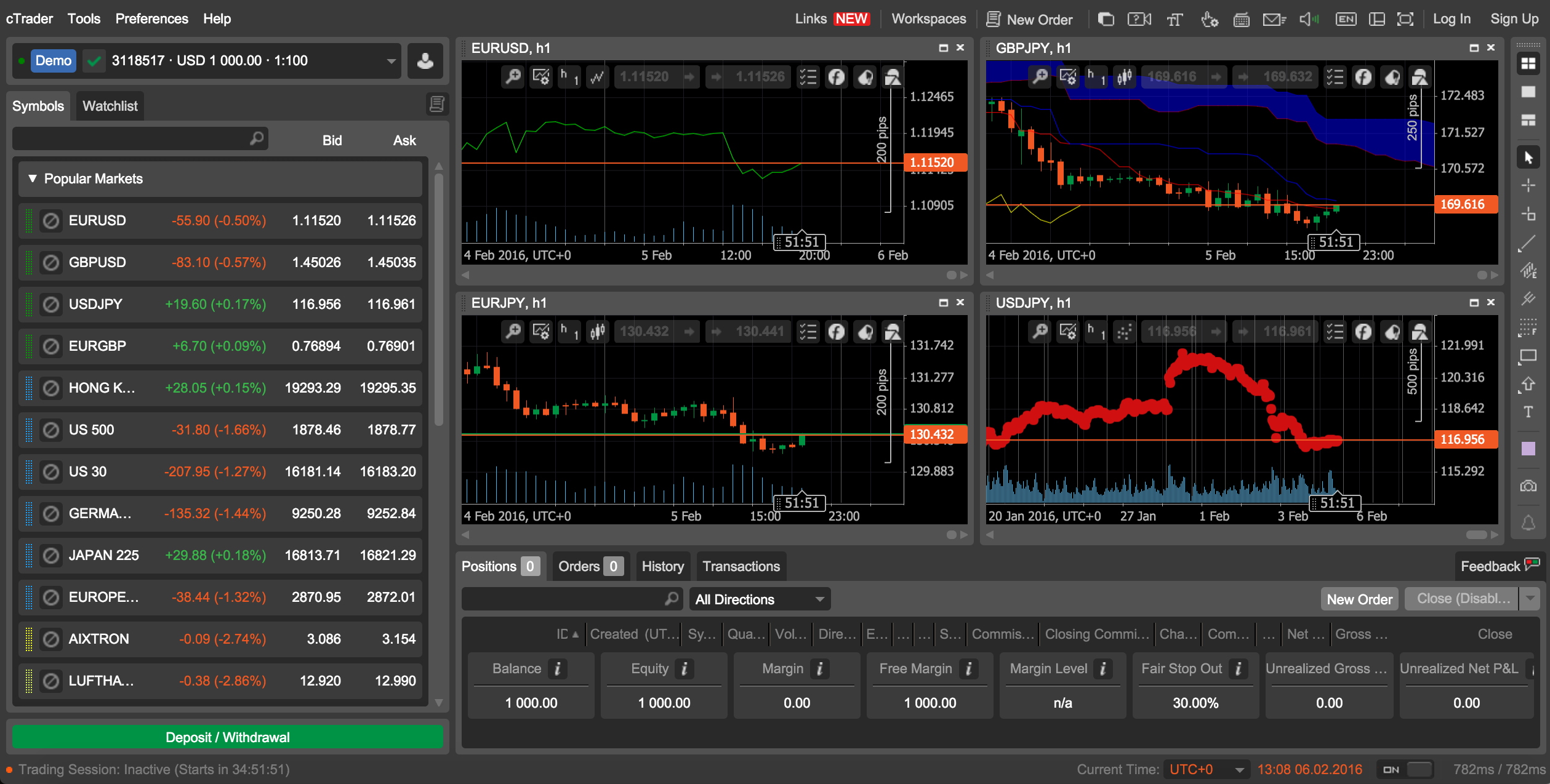 It is one of the best platforms I have ever tried. The design is really nice and intuitive, there are all the drawing tools you want and there is a possibility to customize the platform to your own needs.
However, the language of the platform is in English and it is not possible to choose Danish as a language. In order for us to give the top grade 5 to the trading platform, there must also be an opportunity to choose Danish as a language.
Trading costs at FxPro
FxPro operate with semi-fixed spreads. That is, they change over the course of the day. They change from the lowest from 7 to 19 to the second best from 19 to 07, followed by higher spreads in the period from 20.15 to 22.15. In addition, they have even higher spreads when there are important news and similar special events.
Looking at their cheapest spreads in the period from 19 to 07, they look like this:
DAX: 4 points
Dow Jones: 1.2 points
EURUSD: 1.6 points
EURGBP: 1.7 points
AUDUSD: 1.7 points
USDJPY: 1.6 points
GBPUSD: 1.8 points
Crude Oil: 4 points
Gold: 3 points
Their lowest spreads are slightly higher than those of their competitors we have reported on this page. For forex, they are reasonably competitive, but on stock indices, they are a little too high. Overall, they are quite in the middle of the market compared to their competitors.
The charting package as a work tool
As mentioned earlier in the article, the cTrader graphics package is really fun to work with. It is possible to trade directly from the chart and move around one's orders through the chart, which is definitely a positive thing. You can either choose to view the price as a line graph, candlestick graph, bar graph, HLC graph, Heikin Ashi graph and a dot graph. Unfortunately, it is not possible to get the price shown as a Renko graph, which draws down a bit.
It is also possible to set on many time intervals, which is also a positive thing. In addition, there are all the indicators you need, including volume. There is also ample opportunity to customize drawing tools, which is also positive.
Customer Service at FxPro
Customer service is top at FxPro. They have both phone support and live chat available 24 hours a day on weekdays, but only in English. It is clearly a plus that they are present around the clock Monday to Friday.
Demo account at FxPro
It's super easy to open a demo account and does not require any hard work. However, I would not recommend entering your phone number, as you may experience being called by them for various offers very frequently. The demo account is of course free and without time limit.
FxPro does not offer bonuses
There are no Greek gifts available at FxPro. We see that as a positive thing and are a good sign that they are a serious broker who does not need to advertise casino-like bonuses. This is typically something you offer unless you have competitive prices or a good product.
Overall rating of FxPro 
Security – 5 points
Product range – 3.5 points
Trading platform – 4 points
Trading costs – 3 points
Charting package – 5 points
Customer service – 4 points.
Demo account – 5 points.
Bonus – 5 points.
Overall Rating: 4.3 out of 5.0
We can definitely recommend FxPro. It reflects the high grade as well. It is a serious broker who has security in order, a satisfactory product range, a nice trading platform with a super good charting package and a good and stable customer support. The only negatives are the high spreads and the lack of Danish support.
>> You can sign up for FxPro here <<
Disclaimer: We do not receive any payment for this review. All ratings and attitudes in this article are as objective as possible and are not produced in collaboration with FxPro. FxPro is neither an advertiser nor a sponsor at DaytraderLand.com. If you sign up for FxPro's trading platform through the above affiliate link, the writer will receive a smaller commission from FxPro as part of their affiliate program.
Comments to the review
What are your experiences with FxPro?
We would like to receive comments with your own experiences from FxPro, both good and bad. Thanks!